Making an 'Espresso' with AeroPress
Ever wonder how to make a nice latte without an espresso machine? This is it, the easiest method to brew a rich and bold cup of espresso-style shot, so that you can add milk to make a really nice latte or cappuccino. Or you can turn it into an iced black coffee instead. Flexible, isn't it? That's why everyone loves the AeroPress — the world's greatest single serve coffee maker. But first, take a sip of your AeroPress espresso shot before adding anything!
Brew your AeroPress espresso-style shot
Americano: Add 100g hot water
Iced Coffee: Add 80g ice & 20g hot water

Latte/ Cappuccino : Add 100ml frothed milk
Adjust serving as desired, at coffee to water ratio of 1 : 3.6.
For americano/ iced coffee/ latte/ cappuccino, add hot water/ ice/ milk at approximately 2x of shot yield.
Use espresso roast coffee. Grind fine. We recommend the following grind sizes:
1 to 2 notches for Hario Skerton +

2 to 4 for Baratza Encore 
Brew with hot water just off the boil. Your espresso shot may taste overly acidic if water temperature is low.
Bring water to boil. While the water is heating, grind 18g of coffee.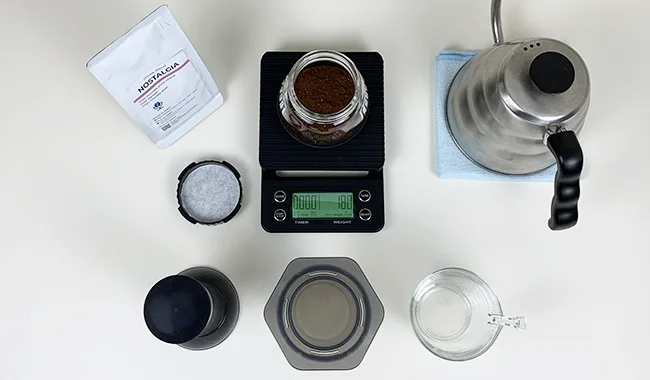 Invert AeroPress plunger with seal facing up. Slide AeroPress chamber onto the inverted plunger, align rubber seal to fully cover number 3. Place AeroPress onto scale and tare.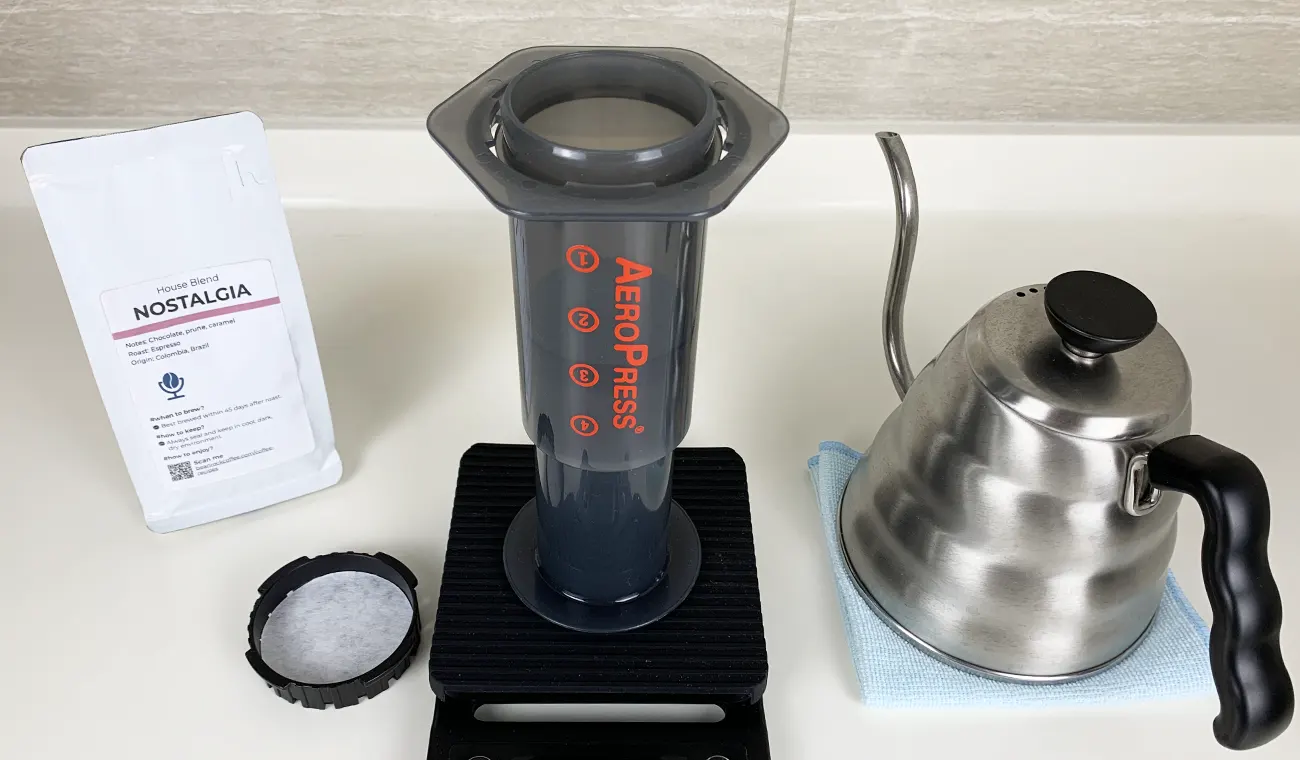 Add 18g of coffee grounds into inverted chamber. Wiggle to level the coffee grounds. Then tare scale.
Optional: Use the AeroPress Funnel to transfer the ground coffee from your coffee grinder bin to the AeroPress chamber if necessary.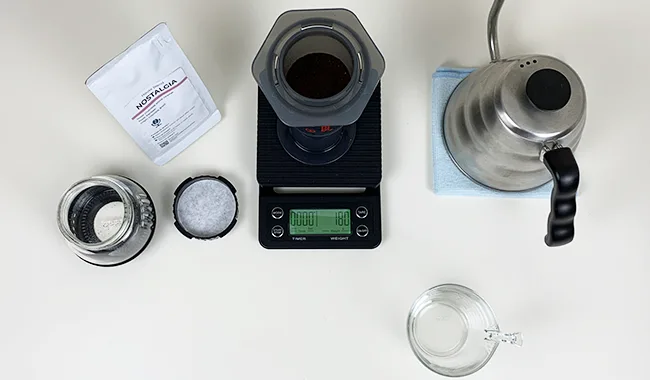 Start timer. Pour 65g of hot water into AeroPress chamber.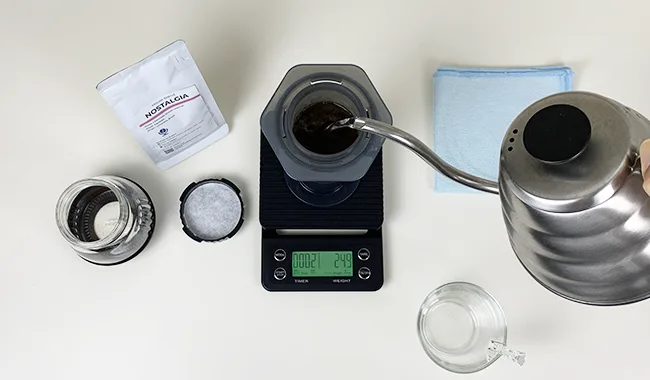 Remove AeroPress from scale. Insert paper filter in filter cap. Twist filter cap onto the AeroPress immediately.  Let steep until 1-minute mark.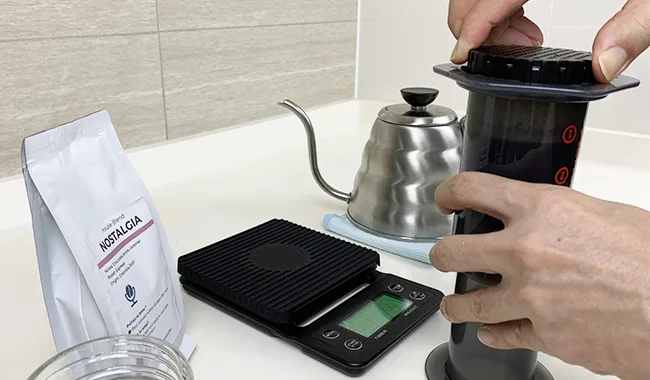 While coffee steeps, place a sturdy empty mug on scale and tare.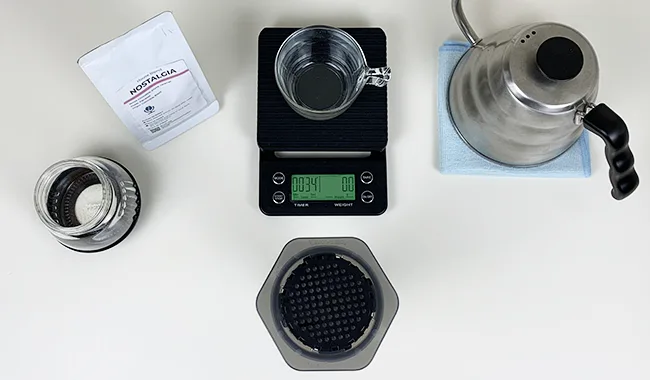 At the following time markers, gently swirl AeroPress for 3 seconds and continue to steep: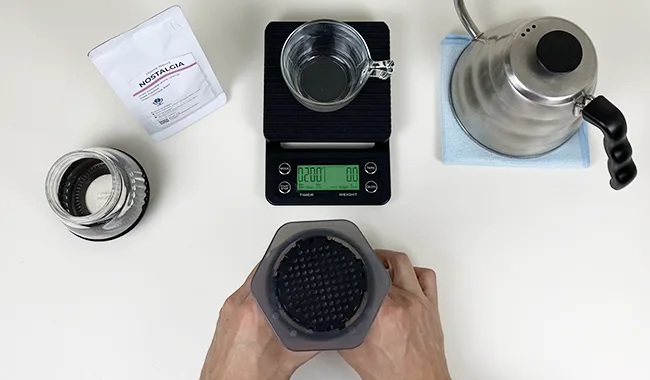 At 3:00 mark, place empty mug at the filter cap. Holding the entire AeroPress and mug together, invert to upright position. Then gently swirl AeroPress for 3 seconds.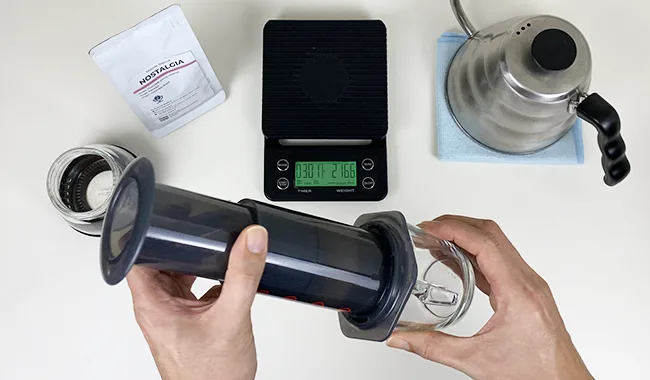 At 3:10, press plunger at constant speed, until plunger touches grounds at 3:30.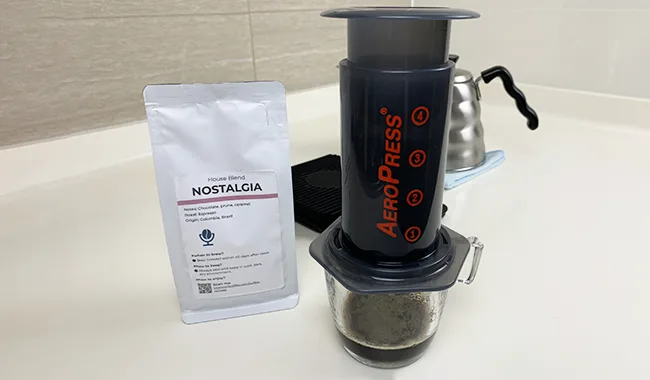 Pull back plunger slightly. Remove AeroPress from mug.
Optional: Place mug on scale to weigh the yield.
Serve as-is or add hot water/ ice/ milk for an americano/ iced coffee/ latte.