Tastes Better Drip Bag Coffee
Brewing with coffee bag is not something new. In the Nanyang Coffee tradition, some coffee manufacturers pack Kopi-O (Robusta coffee wok-roasted with sugar and margarine or butter) in coffee filter bags for Kopi lovers to brew at home. As such, Kopi-O lovers just need to steep and remove the coffee bag with a spoon. Compared to the Japanese-style drip bag coffee, the coffee bag is easier to brew and gives a less acidic cup with fuller body (more 'gao').

Bean Rock Coffee Specialty Coffee Bag is an improved and healthier version of the traditional Kopi-O Coffee Bag. Instead of dark roast Robusta, we use Arabica beans of specialty grade, so you'll get to taste a flavourful and naturally sweet coffee. Absolutely no additives added or needed! At the same time, the attached string makes the whole brewing process super clean and convenient. This is also the most important feature, because you'll need the string to bounce!
Get bouncy with coffee bag
Use a sturdy mug that can hold at least 250ml of liquid, to prevent spilling when you bounce and steep the coffee bag.
Brew with hot water just off the boil for the maximum extraction.
Adjust the bouncing amount and steeping duration according to taste preference: Bounce more for a thicker body, or bounce less for a tea-like mouthfeel.
Bouncing is necessary to agitate the coffee grounds. Steeping without bouncing will result in a weak and hollow brew.
The bouncy method is one of the many brewing ways to give a nice cup of coffee. There are other ways to get a good brew too. For example, stir and squeeze with a spoon, add fresh milk or concentrated milk etc. Feel free to experiment and have fun!
Pour 180ml of hot water just off the boil. Let water saturate the coffee grounds in the coffee bag for 1 minute.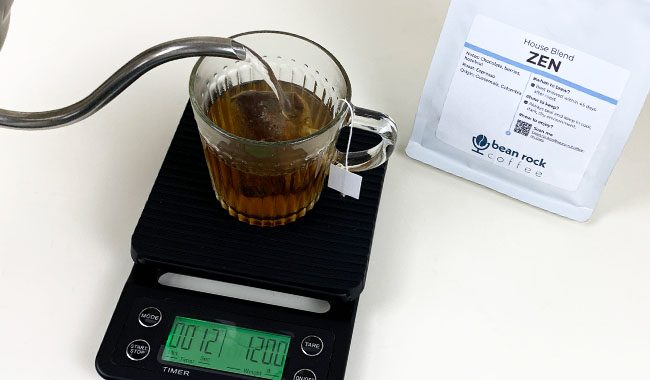 At 1:00, bounce the coffee bag up and down for approximately 80 times.
For a tea-like mouthfeel, bounce about 60x and remove the coffee bag at 5-minute mark.
For a thicker body (more 'gao'), bounce as much as you like for 5 minutes and steep the coffee for a longer duration. But cap the total brew time at 10 minutes to minimise astringency.
Enjoy the coffee aroma as you brew!
Alternatively, you can also cover your mug with a lid to retain more heat, then set it aside to do your work.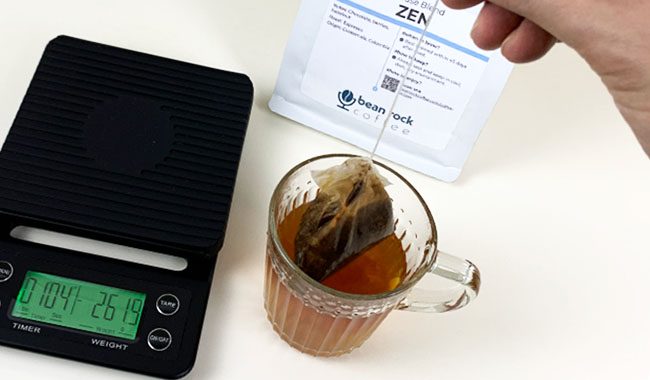 At 5:00, remove coffee bag from the mug. Serve as is.