French Press for a hearty brew
Coffee brewed with French Press is bold, strong and delicious. It combines infusion and straining, to give you a full-bodied coffee. This French Press coffee recipe is designed for your enjoyment, when you feel like drinking a hearty cup, or when you have guests to share. And it's the best French Press recipe because it gives you minimal coffee sludge!
Brew your French Press coffee
Adjust serving as desired, at coffee to water ratio of 60g per litre of water or 1 : 16.
The French Press is a very forgiving and infallible coffee maker. As such,  coffee beans of all roast profile — whether filter roast or espresso roast, light roast or dark roast, work well with the French Press brewing method. So the most important thing is to pick the coffee with the flavours that you enjoy! And we love Romance for its fruity and floral flavours!
Use medium grind size. We recommend the following grind sizes:
4 to 5 notches for Hario Skerton +

12 to 14 for Baratza Encore 
Brew with hot water just off the boil.
The ideal steeping duration is 9 to 12 minutes. To minimise astringency, we recommend to steep up to a maximum of 12 minutes (a timer is going to be very useful!). Any longer than that, your French Press coffee may taste bitter and astringent.
Boil enough water to fill the French Press. While the water is heating, grind 30g of coffee.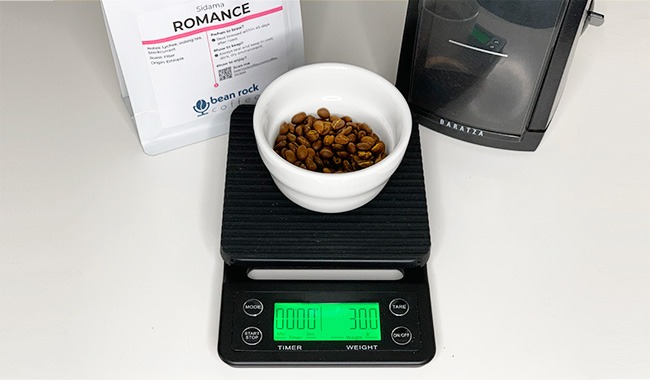 Remove plunger from the French Press. Place the cylinder pot on the coffee scale. Tare the scale. Add 30g of coffee grounds into the cylinder pot. Then, tare the scale again
Start timer. Pour 500g of hot water into the cylinder pot. Enjoy the aroma while your coffee is brewing.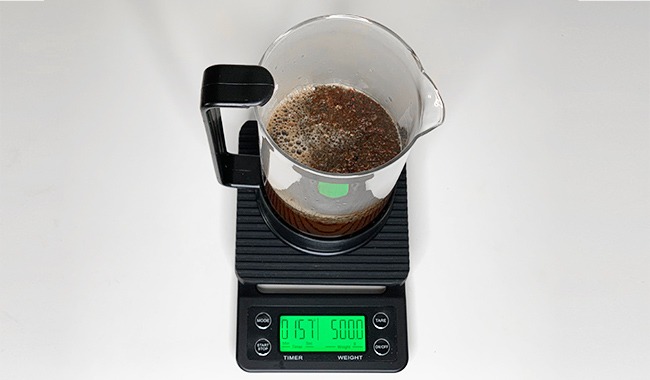 At the 4-minute mark, gently stir the top of the coffee with a tablespoon to break the crust. Then, using 2 tablespoons (it's easier than using 1 tablespoon), remove the foam and floating crust.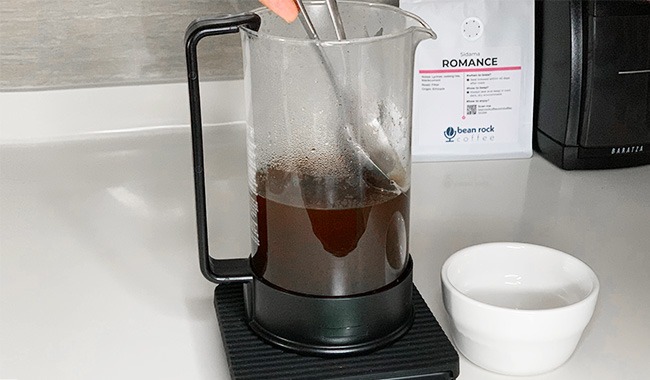 At the 9-minute mark, gently remove the cylinder pot from the scale and place it on the table. Insert the plunger and press it down until it touches the surface of the coffee.
Pour and serve.
*Note: Avoid pressing all the way down to touch the coffee grounds in the French Press. This is because pressing and squeezing will stir up the already settled grounds, which in turn gives you a muddy sludge in your cup.